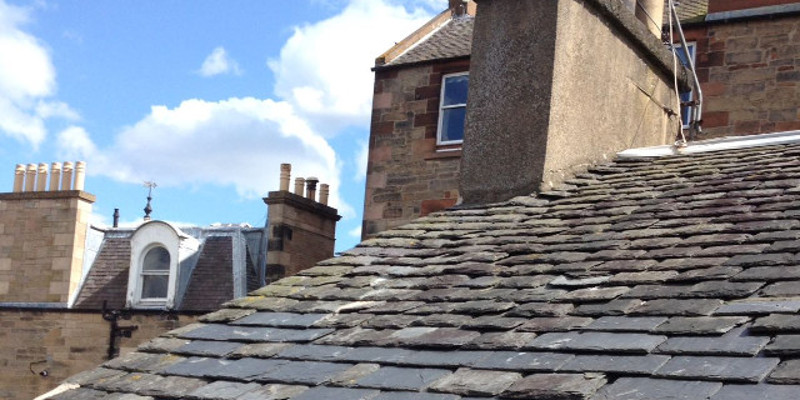 Roof Repair Services
Repairing is our strong point. No matter what the issue may be, we can offer assistance when it comes to repair and maintenance of your roof. We have always taken a no nonsense approach to roofing repairs no matter how big or small the repair required may be.
With all of our work, we provide a completely FREE, No obligation quote to all of our customers. We aim to make our intended work as transparent as possible. It is for this reason we provide a full comprehensive report with all of our quotations which include photographs of the current roofing issues, enabling the customer to identify with the necessary repairs by having their own visual of the roof.
Roof Repair Specialists
Once the required work has been carried out by our Edinburgh roofers and any repairs have been completed, we will provide the customer with photographs taken at the point of completion which will clearly show the work that has been done and the resolution of the issue. All of our work is completed to the highest possible standard leaving the customer with absolute peace of mind that the issue will not arise again.
Trinity roofing has been offering high standards of roofing repairs for many years now and we have gathered a wealth of experience having worked on nearly every kind of repair and maintenance project imaginable both in Edinburgh and Glasgow. It is for this reason we can be confident with the assertion that no job is too big or small.
Get a Quick and Free Quote
If you have a problem with your roof that you feel requires attention, we would love to hear from you. You will never be visited by a salesman and whichever representative from our organisation comes to visit you will always provide you with honest and impartial advice on how best to tackle the issue at hand.
We provide a no nonsense approach to roof repairs: providing a free, no obligation quote to all our customers. Additionally, we will provide with our reports photographs showing the current roof problem, so that our customers can identify with the necessary repairs, and have their own visual of the roof. Once works have been carried out/repairs, then we will also issue a photograph showing works completed, providing peace of mind that works have been completed to a high standard.